DRG Plumbing & Heating is proud to be owned in Nanaimo, BC on beautiful Vancouver Island in Canada. We conduct operations in Nanaimo and surrounding areas, including Qualicum Beach, Parksville, Nanoose Bay, Lantzville, Cedar, Ladysmith and Chemainus.
The Who
The Owner is Dustin, a Journeyman Red Seal Plumber and Journeyman Class B Gas Fitter, with over a decade of experience in the plumbing, heating and gas fitting industry. The majority of his experience is in residential service and renovation, he's also worked in residential new construction, as well as commercial service and tenant improvement. Dustin spent the first 8 years of his plumbing and heating career in Calgary, AB, Canada. He's continued his career in Nanaimo and area since relocating back to the Island in 2015.
The What
DRG Plumbing & Heating is a full service plumbing, heating and gas fitting contractor. With a wide array of services offered DRG Plumbing & Heating is here to help. From a simple leak repair to an entire plumbing and heating system installation, we have the knowledge necessary to quickly assess your situation and offer you quality solutions. Years of experience in the residential service industry means you'll get outstanding customer service, excellent troubleshooting skills, efficiency and honest advice.
The Why
It's simple, we love what we do! Outstanding value is the name of the game, and DRG Plumbing & Heating promises quality workmanship and industry leading materials that last. We're pleased to offer free no-obligation consultations and estimates tailored to your specific project wants and needs.
DRG Plumbing & Heating takes a lot of pride in what we do and we'd like to show you why.
Certifications
Work preformed by DRG Plumbing & Heating will meet or exceed all standards and regulations set forth by the City of Nanaimo, the British Columbia Plumbing Code and the Natural Gas and Propane Installation Code.
General Liability Insurance
WorkSafe BC Coverage
Journeyman Red Seal Plumber
Journeyman Class B Gas Fitter
Fortis BC Trade Ally Network
WHIMIS for Workers
First Aid Certified
Gastite Certified Installer
Flash Shield Certified Installer
Affordable Rates
Hourly Rates
---
$100 per hour
+ Parts, One-Way Travel & GST
$150 minimum charge
---
Free Consultations
Journeyman Workmanship
No Hidden Fees
No "Callout" or "Dispatch" Fees
$150 Minimum Charge
Conventional Gas Water Heaters
---
40 US Gallon: $1849.95 + GST
50 US Gallon: $2249.95 + GST
---
Installation Includes:
Disconnect Gas, Vent and Waterlines
Remove & Recycle Old Tank
Supply & Place New Tank
New Inlet and Outlet Connectors
New Inlet Valve
New Vacuum Breaker
New Expansion Tank
Reconnect Gas & Vent
Electric Water Heaters
---
40 Imperial Gallon: $1399.95 + GST
60 Imperial Gallon: $1799.95 + GST
---
Installation Includes:
Disconnect Wiring and Waterlines
Remove & Recycle Old Tank
Supply & Place New Tank
New Inlet and Outlet Connectors
New Inlet Valve
New Vacuum Breaker
New Expansion Tank
Reconnect Wiring
Homeowner Tips
A gas water heater is an appliance that utilizes gas or propane to heat water. Gas water heaters can be used for both residential and commercial purposes. The water is […]
An electric water heater is an appliance that utilizes electricity to heat water. Electric water heaters can be used for both residential and commercial purposes. The water is stored in […]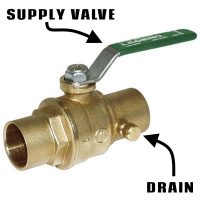 Knowing the location of your water shut-off valve is important for a few reasons… In case of emergency, such as a burst pipe or cracked toilet you need to be […]
See More