It is common belief that a water heater does not require any maintenance, this is simply not true. There are a couple simple maintenance procedures that can greatly increase the life expectancy of your hot water tank, possibly even double it.
Once a year you should flush sediment from your hot water tank. Flushing sediment from your tank can improve efficiency, reduce heating costs and extend the lifespan of your hot water tank. Procedures for flushing your hot water tank can be found in your product manual. Warning: Operating old disused valves may cause them to leak, use caution and operate valves slowly.
Every 2-3 years you should have the sacrificial anode rod in your hot water tank replaced. The anode rod is designed to slowly corrode in order to reduce the effects of corrosion on the tank itself. Periodically replacing your anode rod is the best way to significantly extend the life of your hot water tank.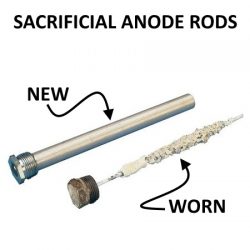 Tank